Chelsea over at
Mama Makes Money
has given me the
Sisterhood Award
. I'm so very honored to be recognized by my fellow blogger and now I get to share the bloggy love (again!).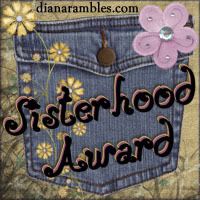 1. Put the logo on your blog or post.
2. Nominate up to 10 blogs which show great attitude and/or gratitude!
3. Be sure to link to your nominees within your post.
4. Let them know that they have received this award by commenting on their blog.
5. Remember to link to the person from whom you received your award.
I'm going to pass this along to some of my fellow bloggy friends who have blogs that I admire, those who have inspired me, those that I visit on a regular basis, or that I feel deserve this award.
(and in no particular order)

Thank You all!
BrendaLea